In my last article I discussed using semi-structured textual data from a book called "Albemarle County In Virginia" by Edgar Woods to build an interactive web app showing emigration from Albemarle County.  Now I would like to spend some time exploring the app to draw conclusions, and form some questions that require additional research.
Before diving in there are a few caveats and limitations that should be stated up front:
Woods does not provide any sources for his work, so we have to take his word about who emigrated and where they went.  We also don't know how complete his list is.
 The list mostly includes only individuals or couples.  In a few instances Woods identifies a "family".  Therefore these numbers are likely only approximate and may not include children or other extended family.
Finally, Woods does not include any dates.  I spot checked a small number of individuals using the rest of Woods's book and other records.  The earliest date I found was 1786 and the latest was 1887.   The lack of dates is unfortunate because it makes it impossible to visualize any trends over time, or to relate any specific movements to major events.
Despite these limitations we can still draw some interesting conclusions from the data.  The first thing that's obvious is the concentration of emigrants in Kentucky.   Woods himself mentions this on page 55 of his book.
Using the Chart widget to look at the distribution of emigrants across all states helps further illustrate the popularity of Kentucky as a destination: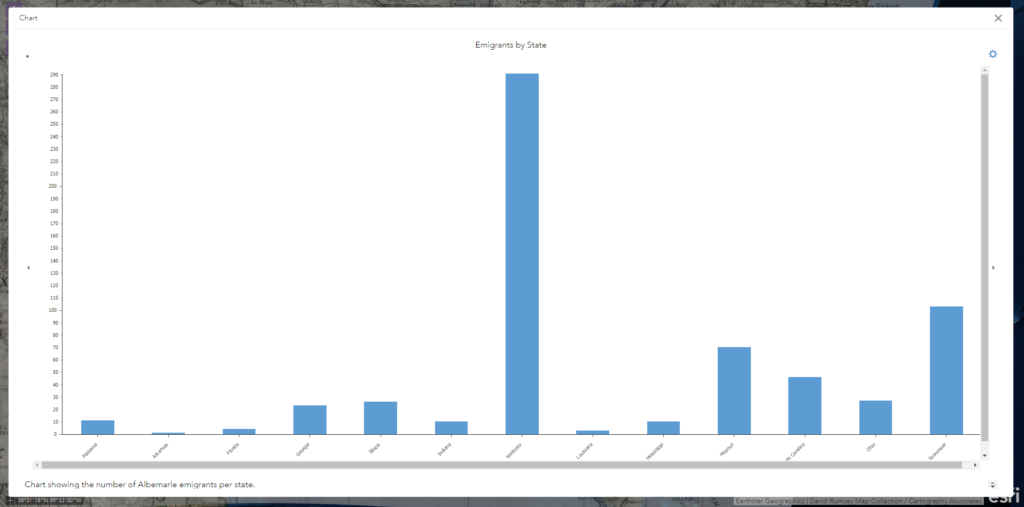 The next two states with the largest number of Albemarle emigrants, Tennessee (103) and Missouri (70), can't compare with the 291 emigrants who moved to Kentucky.
Overall, the data shows a clear emphasis on movement to the west.  There are some indications of movement to the South, with clusters in North Carolina and George, but in nowhere near the numbers who moved west.  This article does a great job of explaining the many social and cultural factors that drew settlers west, particularly to Kentucky.  The data Woods provides clearly illustrates this trend.
Comparing the data to the 1822 basemap is informative.  If you plot the emigrant destinations on a current map of the United States it doesn't look very impressive and raises questions.  Why didn't anybody move to Iowa?  What about Nebraska, Kansas, and Oklahoma?
But plotting the data against the 1822 basemap makes it clear that these pioneers actually pushed to the farthest reaches of the (then) United States.  Going any further would have required venturing into the Missouri or Northwest Territories.  It's also possible that this tells us something about how Woods put his list together.  He may have chosen to exclude emigrants to the Territories because they were not officially states at the time, or because their destinations could not be located with enough specificity.
Some of the spatial statistics tools in ArcGIS can also help us understand and summarize this data.  I used the "Linear Directional Mean" tool to calculate the average distance and direction of all the flow lines connecting Albemarle with emigrant destinations.  This is a quick and easy way to summarize all of the flow lines, keeping in mind that this only accounts for straight-line distances and not the actual routes the emigrants would have taken.  Represented by the black line the screenshot below, it shows that the average straight-line distance traveled was 413 miles in  a southwest direction and ended in Kentucky.  This is also generally in the direction of the Cumberland Gap (red icon below), the main crossing point through the Appalachian Mountains for settlers heading west from Virginia.
The "Directional Distribution" tool for calculating a standard deviational ellipse is another useful tool.  It helps summarize a dataset by showing how points are dispersed, their average spatial center, and their general orientation.  In this case, I ran an ellipse showing one standard deviation (below in orange), meaning the ellipse encompasses points within one standard deviation from the mean center of the dataset.  The center of the ellipse, over Kentucky, indicates the average spatial center of all listed emigrant locations. The ellipse's orientation highlights that emigrant destinations are oriented from southeast to northwest.  This is another way of illustrating the popularity of western destinations for Albemarle emigrants, as opposed to going south or north from Albemarle.
Viewing the data spatially also presents some questions.  For instance, there are no points located in South Carolina, despite the fact that emigration occurred to North Carolina and Georgia.  Is there a good historical reason for this?  More curiously, there are no data points in any northern states.  Is this true, or does it suggest an anti-northern bias in the way Woods, writing only 35 years after the Civil War, compiled his data?
Another oddity is noticeable when looking at residents who emigrated to Illinois.  Out of 26 emigrants to the Prairie State, only four of them (two couples) had a destination county listed.  The other 22 are unlocated and are all single men.  Is this coincidence?  Was there something about Illinois that encouraged single men, and not couples or families, to journey there?  Or does the fact that their destination is unknown imply that Woods had less information about these individuals, and therefore may not have known who they traveled with?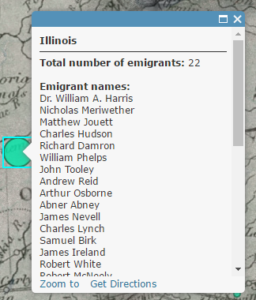 Answering these questions is beyond the scope of this article.  For now, I hope I've shown how our understanding of historic data can be improved by plotting it spatially and applying GIS tools.  Seeing these locations displayed interactively, as opposed to in a printed list, also makes it easier to form questions and plan further research.  Please feel free to leave a message or email with any comments or questions.